I'm very late in publishing this post, it's been a tricky week for me and blogging and I just haven't managed to get any time to write. However, supporting this cause and Jennie is important, so better late than never.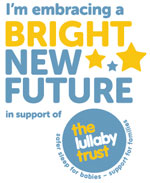 On 2 February 2013 the unthinkable, unimaginable happened and Jennie's daughter Matilda Mae was taken from her family by SIDS. I say taken, as a Jennie herself has said that Tilda was not lost, she was taken, ripped away from her.
SIDS. Sudden Infant Death Syndrome. Cot death.
Unexplained, unexpected, unfair.
I, like many others in the blogging community, have been hugely affected by Jennie, Tilda and their story. Jennie's blog has continued to be a source of wonder and inspiration. Jennie has worked tirelessly since the 2nd of February to raise awareness of SIDS and to support the work of FSID.
On Wednesday FSID changed their name to The Lullaby Trust. They hope that this new name will make them more approachable for parents, enabling them to do more to raise awareness and support bereaved families.
We have chosen our new identity to help us raise our voice, to ensure that sudden infant death is not ignored or considered to be an issue of the past.

Across the country, over 600 apparently healthy babies continue to die suddenly and unexpectedly every year. This is unacceptable and we want to do all we can to prevent these deaths.

We believe that our new identity will help us to reach even more parents with our expert advice on safer sleep for babies. Through greater engagement with families and also with policy makers we hope to achieve our ambition to halve the number of babies dying by 2020.
A fellow blogger Helen from All at Sea, summed it up for me when she tweeted 'Support of @LullabyTrust is not just 4 those with 1st hand experience of #SIDS Its about a brighter future 4 all #LullabyTrust #MatildaMae'.
As a way of helping to raise awareness of this amazing charity and their work, Jennie asked her fellow bloggers to blog/tweet/Facebook/anything to get the message out and to publicise the charity's relaunch. She also asked that we write a post with the theme of 'Lullabies'.
And, boy, did we!
My twitter timeline was awash with tweet and retweets. Many bloggers published posts and linked up with Jennie on her blog. I have read them all, and they are wonderful.
I don't have the same way with words, and poetry is not my strong point.
Music is more my thing and I have always sung and hummed to my babies when alone, in that quiet, special time as I fed them to sleep. Brahms lullaby has always been a favourite, as have songs that I love, especially from musicals (nothing beats a bit of Les Mis or some Doris Day). Dream a Little Dream of Me and Silent Night are also favourites.
I'm terrible at remembering the words to traditional nursery rhymes and lullabies, but the tunes are always with me.
I hum. I make up new words. I add their names. I tell them how special they are.
So, here is my contribution to the lullabies that have been written in memory of Matilda Mae.
Go to sleep, my sweet one, go to sleep, day is done
Go to sleep, all is safe, go to sleep, all is calm
Dream of magic and charms, dream of laughter and love
Dream of wishes and hopes, dream of wonder and joy
Go to sleep, precious child, go to sleep, my beloved
I will guard you in sleep, I'll be here when you wake
May stars watch over you, sparkling high up above
May moonbeams light your dreams, and guide you to dawn
…to the tune of Brahms Lullaby (after a fashion!)
Please visit The Lullaby Trust to find out more about how you can support this wonderful charity.
As I am in the States I can't join a Mile in Memory walk, but check out the website and see if there is one near you . While I won't be able to join one of these walks I plan to mark the day with a walk with my family, at the very least, and hope to do a bit more.
I can't finish without a mention of the the upcoming Sky Dive for Matilda Mae, find out more here.
And, lastly, the wee girls first artwork (inspired by Jennie's messy play); a star for Tilda, Star of the Sea.
Click on the badge below to read the other beautiful lullabies and posts.