The wee girl has been cruising confidently for a few months now, and is happy to walk (and wants to walk) everywhere – as long as she has hold of a finger!
But… on Saturday, she took her first truly solo steps!

This was such a wonderful moment, just look at the joy on her face – she was so pleased with herself!
AND I managed to capture the moment on film :) Can't really get much more magical than that :)
I am linking up with the wonderful Jaime at The Oliver's Madhouse – why not hop on over and take a look at some other magical moments!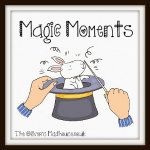 3 July 2013
I am linking up to the lovely Small Steps Amazing Achievements linky over at Ethan's Escapades again, with this post, published in May. The wee girl took a few more weeks to completely take off on her own, but she is now running around after her brothers – and I rarely get to sit down anymore…!
Please click on the badge below and share in the amazing achievements of our children. And, please join in and support this lovely linky!