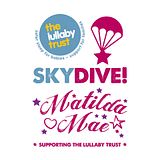 On 20th July nine lovely women are jumping out of a plane in memory of Matilda Mae, the beautiful daughter of Jennie at Edspire. As most of you reading this blog will know, Matilda Mae was taken from her family by SIDS on 2nd February 2013.
The blogging community continues to do what it does best; it listens, supports, blogs, tweets and remembers. Matilda Mae will never be forgotten; we celebrate her life through messy play and blowing bubbles and wearing pink and purple.
And now, by supporting this wonderful team in their charity skydive.
Nine very brave women, one for each month of Baby Tilda's life, are jumping out of a plane!
You can sponsor the team via their team JustGiving page here.
The money raised will be going to The Lullaby Trust (formally FSID). Every year, over 600 babies in the UK die suddenly and unexpectedly. The Lullaby Trust's ambition is to halve this number by 2020.
The team are currently just short of their £5000 target (let's help them beat it!), and funds will go towards research into preventing SIDs, will help support bereaved families and will help The Lullaby Trust to continue to provide safe sleeping advice.
Please support the team in any way you can. Pop the badge on your blog (you can grab the code from Ghostwritermummy). Sponsor one of the team. Help spread the word – blog, tweet, Facebook, tell your friends, tweet some more! Especially on the day of the Skydive – let's get #matildamae trending again!
Please help support Jennie and other families who have suffered a such a cruel loss to SIDS. Together we can make a difference.