The hardest part of living overseas is saying goodbye.
You do it when you first move.
The endless rounds of goodbyes and good lucks. The tears; together and in private. The please come and visit and it's only a plane ride away and we have FaceTime.
But then, you do it over and over again.
Each time you say goodbye on FaceTime.
Each time you say goodbye at the end of a visit.
As regular readers will know, Granny has been with us over Christmas. She flew back to Scotland yesterday.
It's hardest on the boys, especially my 7yo. He is always devastated when Granny leaves. They are very close, which is wonderful and so special, but it makes it that much harder when we have to say goodbye.
I hate saying goodbye too, but I can rationalise. I know that it is only six weeks until we see her again (we'll be in the UK on holiday!). I know that six weeks is no time at all, really. I know it will fly by.
He thinks six weeks is forever.
I don't imagine it ever gets easier. And actually, saying goodbye shouldn't be easy.
But, we always explain to the boys that they are sad because they had such a good time, and that it is a good kind of sad. Sadness at something fun coming to an end. That to not be sad would be worse.
We make sure the next visit is planned before the current one ends. We make sure that there is always something to look forward to. We talk about all the fun things that we have done during the visit, and the great time we will have the next time. We ask them to tell us what their favourites moment were.
We focus on the positive.
It doesn't stop my heart breaking when I look at the sadness in their faces.
How do you deal with difficult goodbyes?
[Update 8 January 2015: I'm linking this post up with the lovely Chantelle from Seychelles Mama, for her Expat Family linky. I had intended to publish a new post for this months linky, but I've been enjoying a break over Christmas and New Year with my family. Yesterday, we said goodbye to my mother as she left to head home to the UK after spending Christmas with us, just as we did this time last year. It wasn't any easier this time.]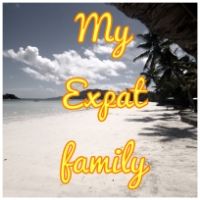 Subscribe To Our Newsletter
Join our mailing list to receive the latest news and updates.